Fiber x Veggie x Protein "Oatmeal"
Clocking in at 20g of protein, 18g of fiber with 1 serving of fruit + almost a full serving of veggies, with anti-inflammatory fighting powers - AT BREAKFAST?! Oh yes and it is created in under 8 minutes...PLEASE tell me what is better than this to start the day!?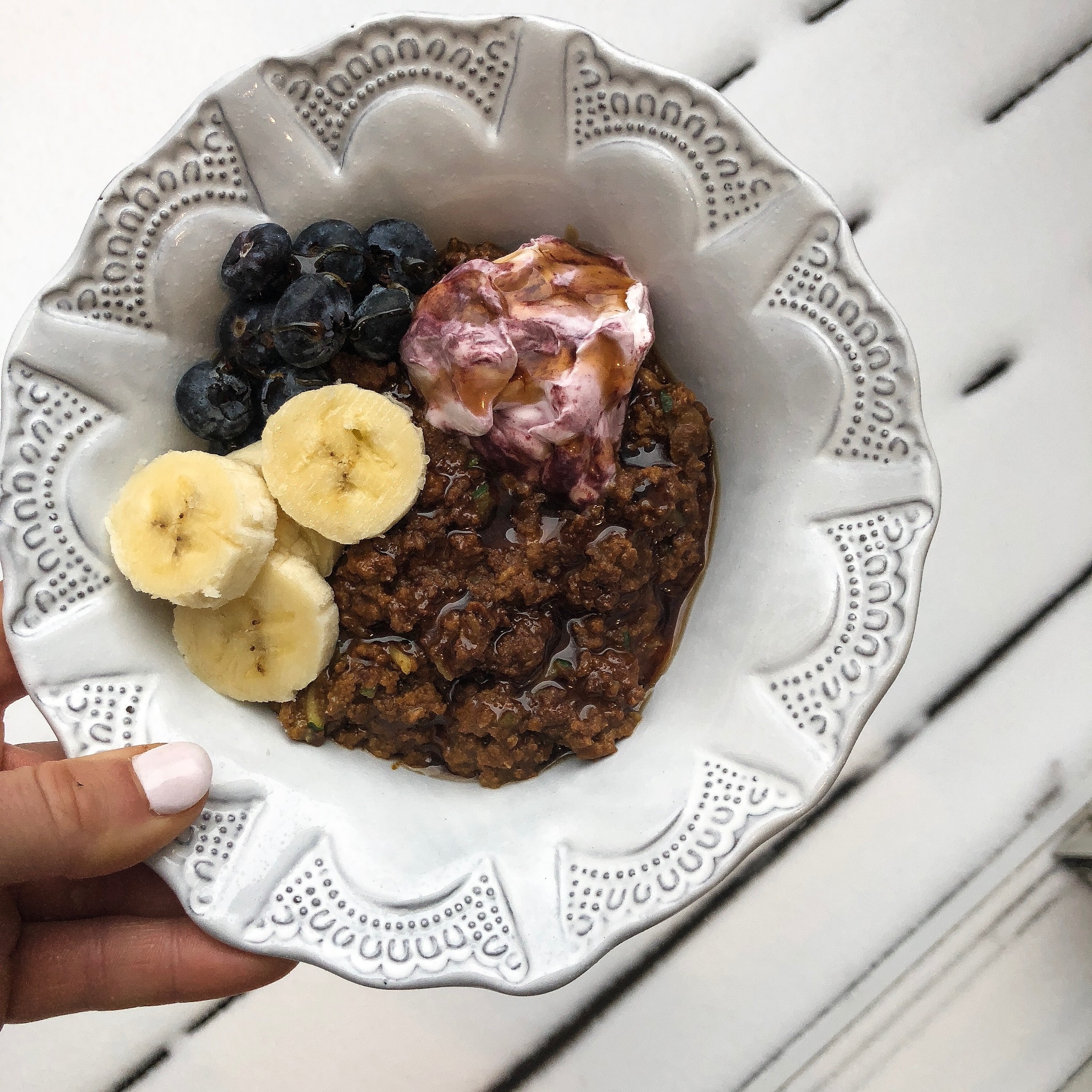 keeps your belly warm & full on the COLDEST of days.
There are a few variations of this "oatmeal" - I have posted a few twists to the original recipe by the fiber queens over at the @f_factor on my instagram page. But after talking to my momma this morning (hi lyn!) she inspired this latest and greatest twist that honestly is hands down the best yet. AS ALWAYS this is customizable and you can make it work in a way that is best for you and your personal needs, but the add ins that I used this morning really added some fun new flavors, and omg the volume that came out of this recipe was incredible. It felt bigger and better than previous versions of this meal.
So as I sit here and watch the snow this morning, I am feeling oh so satisfied, energized and excited to now share this with you!
Be sure to let me know what you think once you try it & tag me on IG with @happyslimhealthy or #hsh #happyslimhealthy - this protein packed, fiber packed and hella balanced meal literally defines what I strive for out of each meal - because after eating this I honestly feel like I can accomplish anything right now - even my 3 page long to-do list !!!
ENJOY!
XO,
J
Fiber x Veggie x Protein "Oatmeal"
Ingredients:
1/2 cup Smart Bran cereal
1/2 cup unsweetened vanilla coconut milk
1/4 cup shredded zucchini
1 tsp gaia herbs Golden Milk powder
1/2 cup liquid egg whites
cinnamon, preference
Toppings:
1/4 cup blueberries
1/4 banana
1-2 tbsp Greek yogurt (today I used Coyo coconut/probiotic yogurt!)
1/2 tbsp fiber syrup (or maple syrup or honey works too!)
Optional: add in 1/2 tbsp nut butter of choice
Directions:
In a small pot on on the stove, over medium-high heat - add: smart bran cereal, zucchini, golden milk, milk of choice, egg whites & cinnamon
Mix well to combine all ingredients and keep stirring as ingredients blend together
Once the "oatmeal" begins to boil, bring back down to low-medium heat and continue to stir until the milk is fully absorbed into your cereal. You will see the cereal start to break down a little and look a little mushy (lose its shape basically) - you can cook until it has reached a consistency you desire (as long as egg is fully cooked through!)!
Pour into a bowl & top with your toppings (customize these to fit your needs & desires!)
Get ready to enjoy every bite & feel so happy afterwards!