Buffalo Chicken Meatballs.
I had a craving. I had the ingredients. I tossed them together on a freaking whim (per usual) and legit MAGIC happened.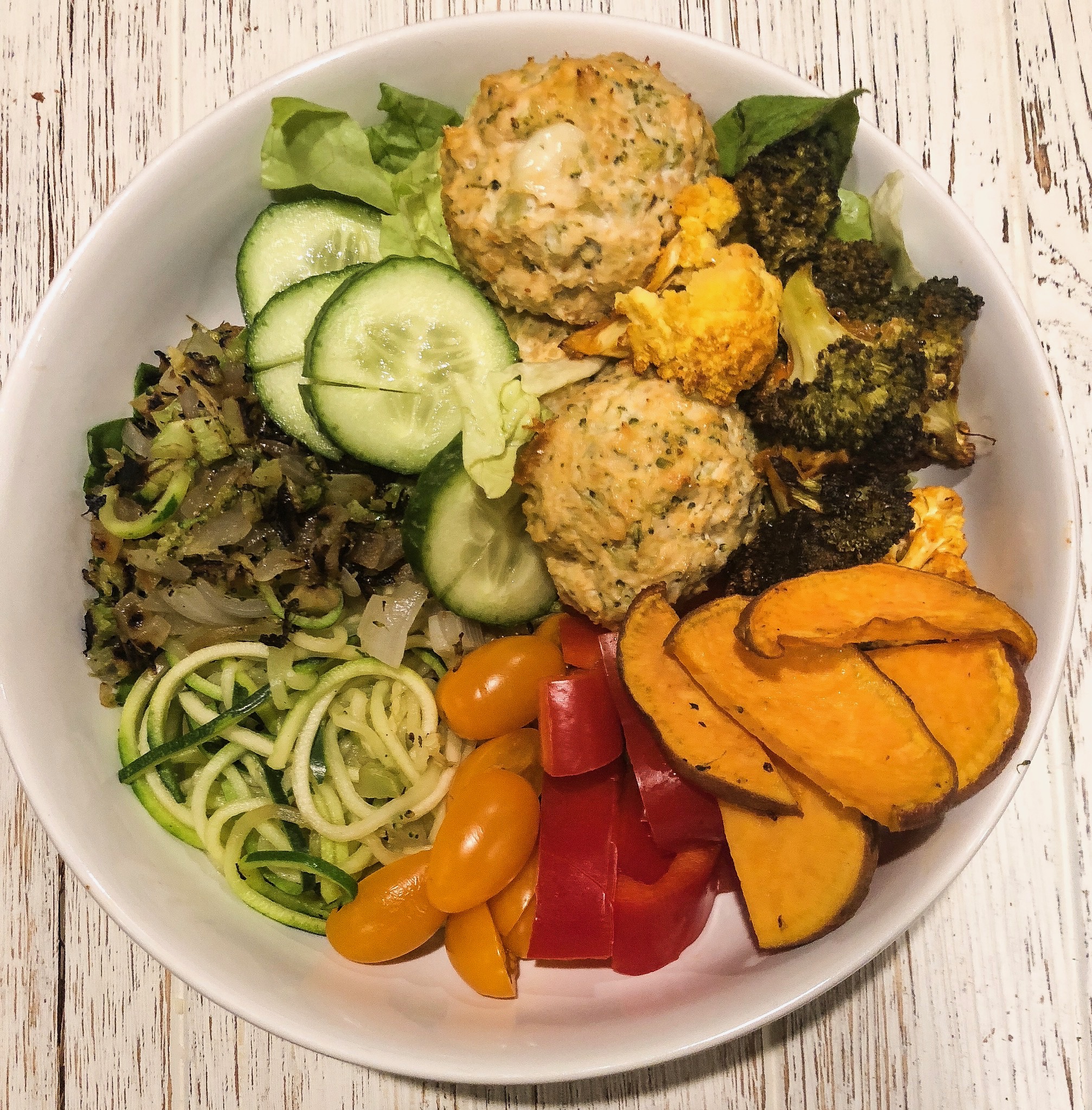 Truly this recipe was beyondddd simple - but by now, you know this already because I made it LOL.
Ok not wasting any time here & gonna get right to it. The one thing that I loved about these babies - they cooked SO PERFECTLY in a muffin tray, which made the clean up so easy, no extra grease for cooking and made my whole kitchen smell so freaking gooooood.
Here we go.
Ingredients:
1 pound ground chicken (I used Bell & Evans, air chilled ground chicken <-- as a note, I ALWAYS buy air-chilled chicken)
1 cup riced broccoli (I bought mine riced - aka chopped really small - you can totally do this yourself, I am lazy on Sundays)
1/4 cup chickpea breadcrumbs (could also totally do ground GG crackers here instead!)
1/4 cup gorgonzola cheese crumbles
1 egg
about 2 tbsp Wing Time Garlic Buffalo Wing Sauce (OMG is this stuff good, can also for sure use just regular hot sauce + garlic if you can't find this)
garlic
Directions:
Preheat the oven to 350 degrees. Grease a 12 cup muffin tray with cooking spray and set aside.
In a bowl, mix all ingredients together.
Form 12 balls and place each in its own muffin cup on the tray.
Bake for about 25-30 minutes - until internal temp of 165 is achieved (aka cooked all the way through)
AND ENJOY!
Honestly, I had to read this like 6 times because it seemed too easy to me too LOL but seriously that was itttt.
NOW! I took these babies and made the most delicious power bowl ever. Added a ton of veggies - per usual, but topped with Bolthouse Farms Blue Cheese yogurt based dressing and it was OUT OF THIS WORLDDDDDD.
ENJOY THEM! Play with them and show me your creations on the gram!
XO!
J