Creamy Pumpkin Pasta.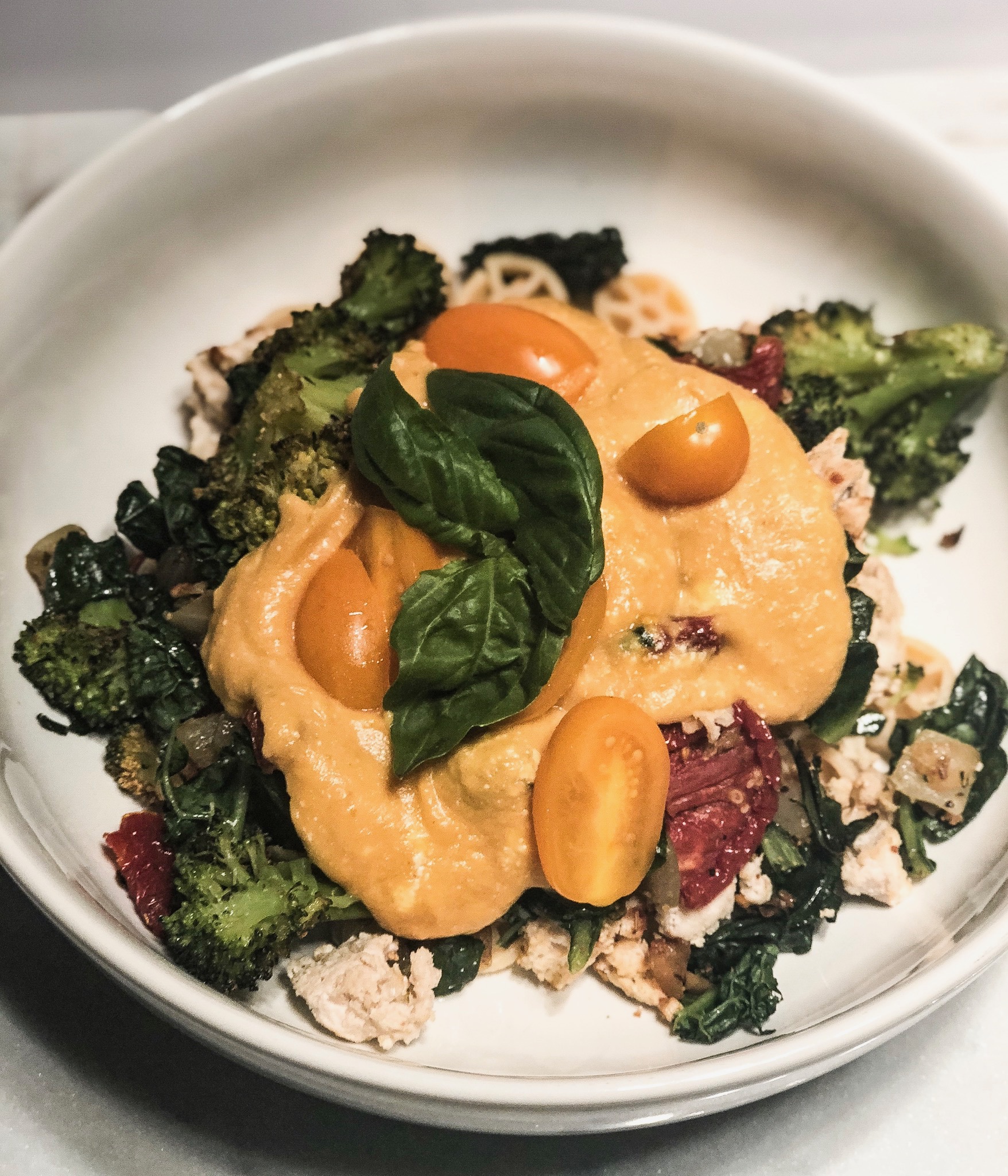 Inspired by so many recipes I have seen on the 'gram recently, I was dying to put my own spin on a creamy, savory yet a little sweet pasta. And so therefore, this freaking masterpiece was BORN. I multi-tasked my way through this. Just like with all my recipes I am sure there is a more efficient way to create this, but it worked - and the only casualty is the mess it left in my kitchen. This dish is really amazing for this time of year, feels like comfort food but JAM PACKED with veggies. Hope you love it as much as we did !
Ingredients:
Sauce:
1 cup pure pumpkin puree
1 cup coconut milk
1/2 cup goat cheese crumbles
salt, pepper, red pepper flakes, garlic
Protein:
1 pound ground chicken
garlic
Veggies:
2 cups chopped lacinato (dino) kale
1 cup diced onions
1/4 cup sun dried tomatoes
2 cups broccoli, roasted (with garlic & herb seasoning)
Pasta:
Directions:
So I did this all separately - feel free to make this work best for you - but as a disclaimer I had 3 pans going for this baby!
Pasta: Boil water & cook banza to package directions (recommend to rinse with water after draining)- place pasta when done on the side - for portion control: suggest to portion your pasta servings into bowls and keep the rest on the side.
Protein: Cook 1 pound ground chicken in a pan. Break up into pieces and cook until cooked all the way through with garlic, garlic & herb seasoning and a little salt as desired.
Veggies: In a separate pan saute all the veggies! I decided to roast the broccoli on the side, but you can definitely saute that as well. Cook until desired doneness reached.
Sauce: In a small pot - combine pumpkin, coconut milk, cheese & spices. Mix well until cheese melts into pumpkin & sauce is heated all the way through.
ASSEMBLE: You can do this a few ways - you can mix all of it together and feed many. Or portion it out - start with your portion of banza, then layer lots of veggies, add in your portion of protein & top with 2-3 tbsp sauce! However you do it, the flavor rocks - top with extra red pepper flakes if you like it hot and enjoy all the deliciousness of this fall --> winter masterpiece!
Enjoy!